Blackwood Design offer a portfolio of web based products and services. Ranging from website design and construction, to website hosting, domain name registration and managing online marketing. From individual sole traders to small to medium enterprises, we provide a flexible, friendly, no fuss web design service.
With over 18 years of experience and specialist knowledge in bringing businesses to life online, we pride ourselves on the service we provide to our customers.
Blackwood Design are Specialists
Blackwood Design are specialists in website design and web applications for small to medium businesses. We provide high quality services for our customers with the majority of our business coming from recommendation. Our dedicated personal service enables us to deliver web solutions that suit the needs of our clients, and help them grow their online presence.
What our Clients Say…….

Simon have been a pleasure to deal with. Efficient, helpful and taking all the hassle out of website design. I have definately seen an increase in interest and activity since my site was completed and I have no hesitation in recommending their services.

"Simon has just completed my website and has done a brilliant job. I am absolutely thrilled. I have not been an easy customer and have changed my mind several times about the way I wanted my website to look. I have also been extremely picky and pedantic about content and presentation, but Simon has dealt with all of my requests with great good humour and professionalism and has given me a website of which I am extremely proud."

"I have been very happy with the service and the website. I find many patients will look up the website on Google prior to their appointment. This often saves time as they have read about their condition and the frequently asked questions have been answered."

"I have been working with Blackwood Design for the past 3-4 years and I am extremely happy with the service that has been provided for my business. The service is efficient and the cost is reasonable.
I would strongly recommend Blackwood Design for consultants who wish to set up their own website."
---
Responsive Web Design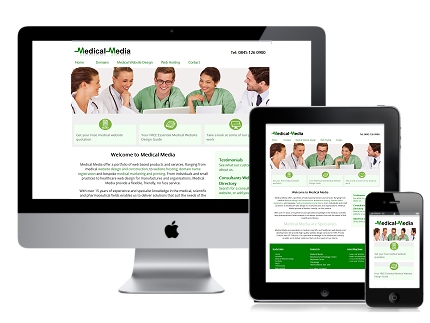 Responsive Web Design(RWD) is a technique for construction websites that will work on mobile devices such as tablets and mobile phones as well as traditional desktop screens.
The elements on the web page adapt in size, location and orientation to fit the size of the screen that the visitor is using.
With search engines placing more and more emphasis on mobile friendly websites, it pays to have a site that complys to the latest requirements.